Editors note: The following books are aggregated from the ILR network— we'd love to see them reviewed in future issues! Please reach out to us if you're interested in writing one.
Conscious Leadership by John Mackey, Steve McIntosh, and Carter Phipps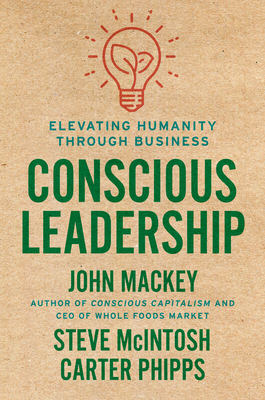 Institute for Cultural Evolution cofounders Steve McIntosh and Carter Phipps teams up with Whole Foods CEO John Mackey for this follow-up to the bestselling Conscious Capitalism—revealing what it takes to lead a purpose-driven, sustainable business. The result, as former Trader Joe's president Doug Rauch puts it, is a book that "clearly integrates the world of personal growth and the world of business, presenting a path forward that each of us can travel to fulfill our highest purpose."
Conscious Leadership closely explores the vision, virtues, and mindset that have informed Mackey's own leadership journey, providing a roadmap for innovative, value-based leadership—in business and in society. It also draws on Phipps' and McIntosh's decades of immersion in personal growth, integral philosophy, and cultural change. Each chapter challenges readers to rethink conventional business wisdom through anecdotes, case studies, profiles of conscious leaders, and innovative techniques for self-development, culminating in an empowering call to action for entrepreneurs and trailblazers—to step up as leaders who see beyond the bottom line. It is, as Conscious Capitalism co-author Raj Sisodia writes, "destined to become a classic of the genre."
"Thoughtfully structured and beautifully written, Conscious Leadership is filled with depth and wisdom. It's true brilliance is how it meets the reader with powerful real-world examples anchored in actionable insights. This should be required reading for anyone who is serious about leading in the 21st century."
Rand Stagen, CEO of the Stagen Leadership Academy
Good Company by Arthur Blank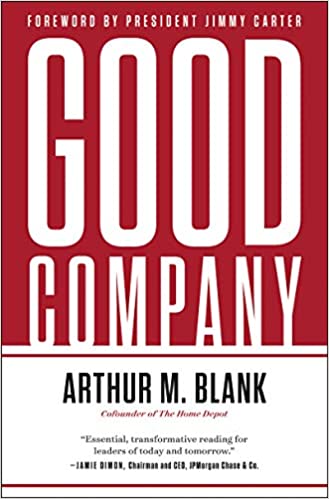 The Home Depot cofounder and owner of the NFL's Atlanta Falcons shares his conviction that for good companies, purpose and profit can—and should—go hand in hand. Good Company tells the story of how the same set of core values that built the home improvement giant were used to turn around a struggling NFL team, reboot a near-bankrupt retail chain, build a brand-new stadium, revitalize a blighted neighborhood, and launch a startup soccer club, all while giving back to people and communities.
"Arthur's guiding truth is timeless: humbly listening to and learning from customers and associates in any business leads to lasting connections that forge successful companies that also become trusted, valued citizens of the communities they serve." –Jamie Dimon, Chairman and CEO, JPMorgan Chase & Co.
THE CRITICAL DECADE 2020 – 2029: Calls for Ecological, Compassionate Leadership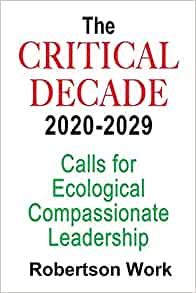 Decentralized governance expert Robertson Work calls for decisive action in this critical decade 2020 – 2029. Addressed to 3,000 leaders around the world, these twelve talks given in 2010 – 2019 explore multiple crises and opportunities, an emerging civilization, innovative leadership (group facilitation, social artistry, integral thinking, and mindfulness), sustainable development, public service, community development, the movement of movements (MoM), and peacebuilding. These "calls to action" were given in events organized by the United Nations Department of Economic and Social Affairs (UNDESA), Institute of Cultural Affairs (ICA), Building Creative Communities Conference, Oklahoma City University, Horace Mann School, and World Fair Field. Talks were made in New York City, Bahrain, Chicago, Nepal, Seattle, Tanzania, Oklahoma City, Republic of Korea; Colquitt, Georgia; India; and Fairfield, Iowa. Readers will be empowered by bold ideas, methods, and actions for a regenerative-just world. The book is dedicated to Ken Wilber and four other of Work's master teachers, and is available on Amazon.
(https://www.amazon.com/dp/B08LXVSJ66)
"I greatly appreciated the inspiring talks that professor Work delivered." – Adriana Alberti, PhD, Chief, Programme Management and Capacity Development, United Nations Department of Economic and Social Affairs (UNDESA.) "[He spoke with] the urgency and power of a prophet along with the empathy and compassion of a fellow journeyman." – Terry Bergdall, PhD, CEO ICA-USA, 2009-2015; faculty member, ABCD Institute, DePaul University, Chicago. "Rob's words will be treasured by all who read them." – Joy Jinks, MSW, Co-Coordinator, Building Creative Communities Conferences.
Moorman Robertson Work, Jr. has worked for over fifty years in fifty-plus countries as UNDP principal policy adviser for decentralized governance, NYU Wagner professor of innovative leadership, and ICA executive-director in four countries conducting community, organizational, and leadership development initiatives. This is his fourth book, with contributions to eleven others. He is a nonfiction author and ecosystem/justice activist and lives with his wife in Swannanoa, North Carolina, USA, near family, friends, and the Blue Ridge Mountains. Author page is: https://www.amazon.com/Robertson-Work/e/B075612GBF%3Fref=dbs_a_mng_rwt_scns_share
Website: https://www.robertsonwork.com/