Annabel Beerel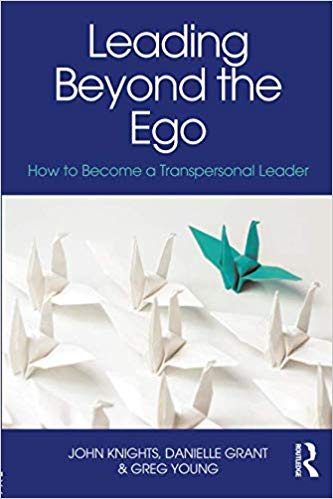 John Knights, President of the U.K based leadership development and coaching organization, LeaderShape Global, along with several members of his team, advocate a new leadership approach for the twenty-first century called Transpersonal Leadership. The steps to becoming a transpersonal leader, are explained in great detail in their cutting-edge book, Leading Beyond the Ego.
According to Knights, et al., traditional leadership behaviors are not working. Based on research dating back to 2005, and involving several thousand executives, Knights found that key leadership elements that are largely missing include empathy, developing others, conflict management, the ability to be a change catalyst, and inspirational leadership. Knights and his team, have sought to counter these leadership deficiencies by developing the transpersonal leadership approach.
"Transpersonal" is a term that emerged from psychology. It means beyond the personal or usual limits of the ego. It was first coined by Abraham Maslow, who realized that there is a step beyond self-actualization which lies at the top of his pyramid of motivational needs. The transpersonal domain is one where one has peak experiences and is open to moments of transcendence or a transcendent call that takes one beyond one's normal ego consciousness.
Using Transpersonal Leadership as their grounding leadership development strategy, Knights writes that, "Transpersonal Leaders operate beyond the ego. They are radical, ethical and authentic while emotionally intelligent and caring." According to Leading Beyond the Ego, transpersonal leaders embed authentic, ethical and emotionally intelligent behaviors into the DNA of the organization. They tend to build strong, empathic and collaborative relationships, and they are adept at creating a performance enhancing culture.
The book provides a comprehensive plan that charts the transition from being a rational, ego-based, as usual leader (starting point), to the intermediate stage, where one becomes a robust, emotionally aware leader. The advanced journey is one that integrates all three intelligences – rational, emotional and spiritual and leads to one becoming a radical, ethical and authentic leader. Spiritual intelligence is incorporated in the Leading Beyond the Ego model as conscience and self-determination culminating in two questions: Who am I and What do I do with who I am?
Besides the detailed attention paid to E.I. and self-awareness, there is a section on the neuroscience of leadership, and a most insightful analysis of the emotional intelligences required for six different leadership styles – Visionary, Coaching, Affiliative, Democratic, Pace-Setting, Commanding – based on the Goleman/Boyatzis model (2002).
The Leading Beyond the Ego book is rich in content in a wide number of areas and includes details of a 360degree assessment model (LEIPA), and the eight integrated competencies of leadership – 8ICOL®. As the U.S. LeaderShape representative in Massachusetts and New Hampshire, I highly recommend this book and its message. The depth and breadth of leadership development insights and guidance are exceptional.
About the Author
Dr. Annabel Beerel is a Leadership and Change Management Executive who works with senior executives to advance organizational effectiveness. She is also a highly experienced executive coach. Annabel is the LeaderShape Global, Inc. representative in Massachusetts and New Hampshire and is actively engaged in promoting transpersonal leadership.
Annabel has a PhD in Social Ethics, an MA in Transformational Psychology, a Master's in Theology, has carried out advanced leadership training at Harvard University, has an MBA, is a qualified accountant and is a certified Meditation Instructor. She has written nine books on a variety of subjects. including Leadership and Mindfulness.